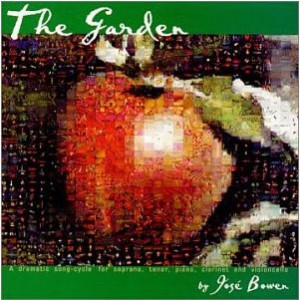 Track Listings 
1. Etude in Eternal Twilight
2. The Garden – Man
3. The Garden – Seduction
4. The Garden – Second Seduction
5. The Garden – Crime
6. The Garden – Punishment
7. The Garden – Reunion
8. Voice from the Annex – When Someone Comes In
9. Voice from the Annex – A Quiet Conscience
10. Voice from the Annex – Everything Is Still
11. Voice from the Annez – It's Really a Wonder
Here are two lovely song cycles. The first (The Garden) is based on Jewish tales (midrashim) about the Adam and Eve story, and contains a fresh perspective; imagine that Eve is innocent, Adam is proud, and the serpent (who has not yet lost his legs as a punishment) is hot. Adam and Eve are dramatically sung by Greg Wait and Rachel Michelberg. Voice from the Annex is an equally fine song cycle with texts based on the writings of Anne Frank.
The  Garden
A dramatic song-cycle for soprano or mezzo-soprano (Eve) tenor or baritone (Adam) and piano with optional instrumental parts for clarinet and cello
Music and texts by José A. Bowen
Pride and Punishment?
This is a great way to study midrash.  Everyone thinks they known the story of Adam and Eve, but there is much more to this story than you may suspect. Did you ever notice that everything the serpent says is true? Supposed Eve was framed?  Suppose Adam lied to her? What is the fruit they eat?  The text says only "fruit" and while Christian tradition calls this an apple, there is no apple in Jewish tradition.  What sort of a God forbids knowledge and only knowledge?  Since so many Jewish traditions trace their origin to the "sin" which Eve supposedly brought into the world (orthodoxy mandates that all women should cover their hair to hide their shame and their own guilt(!) in this "seduction") it is important to understand there are other possible Jewish interpretations.  Instead of assuming that Adam is noble and good and Eve is corrupt or stupid, imagine for a moment that Eve is innocent, Adam is proud and the serpent is aroused.
Sex, Learning and more Sex!
I didn't make this up.  Even before Eve arrives, as Rabbi Eleazar points out, Adam has sex with all of the birds and beasts.  (No wonder he fell asleep as the serpent talked to Eve, says Abba Halfon b. Koriah.)  Look at the text for yourself: after saying "I will make a fitting helper for him" (Genesis 2:18), God creates the beasts and brings them to Adam (Genesis 2:19).  Only after "no fitting helper was found" (Genesis 2:20) does God take one of Adam's rib.  Yes, it gives new meaning to the "trial and error" method, but remember that the definition of a species we still use today is "the ability to exchange genetic material."  These six songs are mostly in English with some Hebrew; Adam and Eve sing the Mi Adir as they get married.  (There is also an optional narrator part.) The songs are dramatic and entertaining, lasting about 35 minutes, but they will also make people want to learn more about these midrash.
Study Sessions with Music !
A great way to get your Adult Education Committee to pay for this is to do an evening-long (or even an entire Shabbaton) programme on this fascinating Jewish story.  The score comes with over 30 pages of notes containing an introduction to midrash, full texts of all songs with detailed notes full of quotes from the Talmud, Midrash Rabbah, the Zohar, commentaries by Rashi and Ramban, and the Alphabet of Ben Sira. All of the source material is collected into one book.