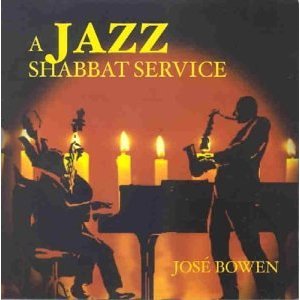 Track Listings
1. L'cha Dodi
2. Psalm 98 (Sing, Sing Sing)
3. Barchu
4. Sh'ma
5. V'ahavta
6. Mi Chamocha
7. V'shamru
8. Yismechu
9. Shalom Rav
10. May the Words
11. Halleluyah Shout!
12. Bayom Hahu
13. Blessing
14. Havana Nagila
15. Psalm 98 (Sing, Sing Sing) Reprise
16. Blessing (Bonus Track)
Commissioned in 1988 by Cantor David Unterman for Congregation Beth Am in Los Altos Hills, CA, this service has recieved over 75 complete performances from coast-to-coast. It features the traditional Hebrew texts for a Friday night service set to a variety of types of jazz, latin and R&B. Unlike like other "jazz" versions of these prayers, this one really swings with lots of room for improvisation over driving grooves. And the prayers have been thoughtfully set. Bowen is a scholar and while initially resistent himself to the idea of writing jazz for Jews, he writes : "I soon learned, however, that Jews have always adapted our music to the culture where we lived and that the job of a sacred music composer is to find a way to unlock the emotional power of ancient words with music which moves the soul of contemporary listeners. Jewish liturgy was always meant to be a wide-ranging journey from quiet peace to exuberant joy and I hope the variety of styles used! in this service reflects the spiritual intentions of the rabbis and leads you to transcend the ordinary. That, of course, is what art and religion share; only human beings create meaning by giving thanks, celebrating anniversaries and creating art. All composers (of either sacred or secular music), desire to inspire us to live for more than just our physical needs and become more human by making art matter." This rare concert performance brought together 250 singers from the adult and children's choir of 7 Washington DC-area synagogues and over 250 singers. Two of these pieces have been featured on earlier Bowen CDs, but these are not available in the US and this CD features all of the original music plus a terrific new L'Cha Dodi: all in spectacular sound with a cookin band and the energy of a live crowd!